At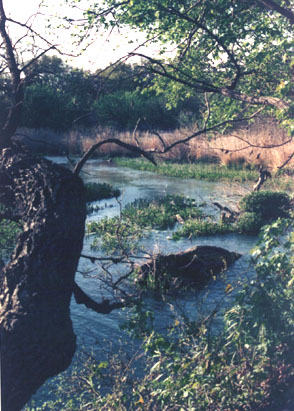 We get to see parts of CRYSTAL CLEAR rivers most folks will never see for whatever reason,
some are "private", others are only accessible by small boats or canoes.
Not to mention that you would need at least one pickup or trailer to haul it all, and another vehicle to pick you up.
So just sit back and look at our page now and then and see what we see!
I strive to give YOU a trip that you'll remember for the rest of your life!!!!
A SMALL LIST OF THINGS SEEN THRU THE YEARS.
WHITE TAIL DEER, YOUNG FAWNS THAT WERE JUST BORN,
HAWKS CATCHING FISH RIGHT IN FRONT OF US, TURKEY, SQUIRRELS,
SNAKES FIGHTING FOR THE RIGHT TO MATE,
TOO MANY SPECIES OF OTHER BIRDS TO LIST,
PORCUPINES, BOBCAT, RACCOONS, AND MANY OTHERS.
FISH
Big Black Bass (up to 7 lbs.), Small mouth Bass up to 21'', Perch to 2 lbs. and Garr to 4 feet long, and Catfish to 42 lbs.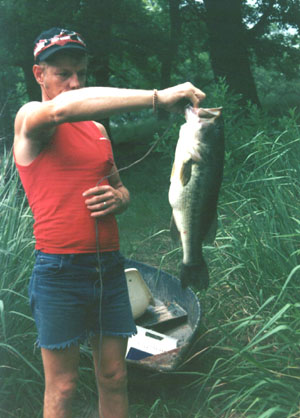 Bobby's a show-off, isn't he!
The pictures above were shot at our pick-up point on the South Concho River.
The fish my friend Bobby is holding weighed 4 1/2 lbs. and measured 22 inches.
We always practice catch and release.
Wondering how you'll get to see all this?
Well it's simple we put you in a small kayak built for just one person, (they are very stable and safe). Sorry only a max. of 4 people to a trip.
Then after a few minutes of instruction, in the shallow part of the river. We'll get going down the river, fishing as we go or if you like just taking pictures, or enjoying the unlimited things to see! We always see something new. And its not uncommon to catch 20-30 fish on every trip.
So come back and look us over now and then to see the changes that have been made.
It will be a trip worth every minute.
Plan your trip today, you will BE GLAD YOU DID!!!
Don't miss your chance to take the adventure few are privileged to,
e-mail
us TODAY and we'll be glad to answer all your questions.
We don't take the rivers for granted and we always leave them like we found 'em.
Mr. Langlois of Wisconsin was quoted saying,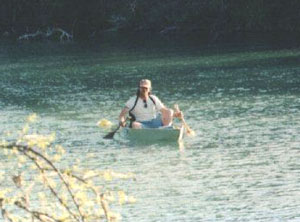 "It's so peaceful it's like being in church."
YA'LL COME GIVE US A TRY.........you'll be glad you did.