Texas River Tours 3

1998
It was January 11, 1998, 6:00 a.m., the sun was just coming up.
The temperature was a brisk 39º, but the 4 of us knew what to expect
and we were dressed for the cold day ahead. Forecast for the day was to be near 60º,
with winds out of the NE at 10-15. I don't like the wind, especially when we have to paddle into it.
Mr. Langlois from Wisconsin, took off 1st. I soon followed.
B.F. Bingham was slow in coming but finally got in the kayak, followed by Mr. Holguin, so
he gets to be the first picture. (Note the sun rising in the trees behind him)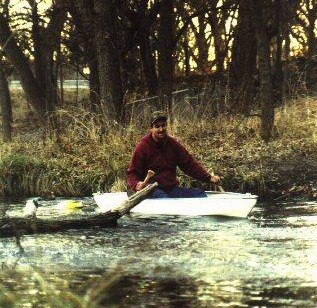 OK, everything is going well, no-one got wet on the start and we're off and rowing!
It's now almost 7 a.m., but all's well!
Now we are on our way, stopping to fish here and there.
2 small fish are caught right off by Mr. Bingham and Mr. Langlois.
I'm still fighting with the camera and low light conditions, its going to be one of those days.
We all get passed the 1st dam OK and decide to move down river to the next pool.
Looks like a pretty morning then we hear them gobbling in the distance,
a small group of 5-6 fly over then another set, then another, before they finished
we counted around 60 turkey crossing the river in front of us.
What a way to start the day. Of course I didn't get a sharp picture of them, sorry!
Well we continue on to the first rapids, only Mr. Bingham rides them out, the rest of us
wisely carry the boats one by one down river.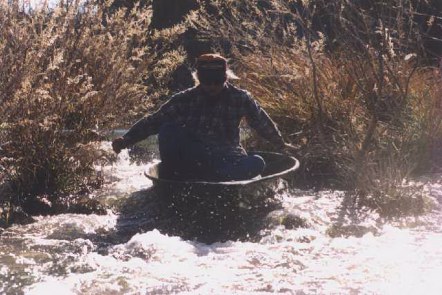 Luckily he made it thru without any problems!!!!!
We carry on fishing as we go, the wind is blowing harder than the predicted 15 mph that's for sure.
But we manage to pull out a few decent fish each, just to spite the weather.
(Remember its catch and release!)
Finally we come to the end of the trip and it is time to ride the last rapids,
Mr Langlois is still out front where he has been most of the trip, so this is
how we saw him most of the day.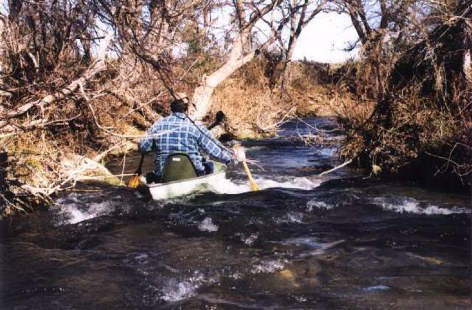 Yes, those are rocks you see in the foreground, I'm telling you it is one of the prettiest rivers around.
No one kept an accurate count of the fish caught for the day,
but we all caught our fair share and had a great time.
We plan another trip soon.
Have a nice day!!!!!